Design Thinking Applied to Advertising
1.0 ABOUT THIS REPORT
This report was created to fulfil requirements for the Design Thinking module of the Digital Management Masters programme at Hyper Island.  This report has been written for presentation to the CEO of Connector.
2.0 REPORT SECTIONS
A critical review on design thinking from academic and professional literature.

Recommendations for how Design Thinking could be applied to Connector – the author's workplace.
3.0 INTRODUCTION
Design thinking refers to the use of industrial design tools and human-centred approaches to solving problems. The primary benefit of design thinking is that it fosters a culture of iterative prototyping, which makes ideas tangible and accelerates the rate at which they are turned into innovative solutions (Cooper and Junginger, 2009, 6). Its rise in popularity has resulted in many models emerging that have made design thinking a significant asset. This is because it allows non-designers to use designerly ways of thinking and tools to solve challenging problems and create innovation. The focus of this paper is on investigating the application of design thinking in a creative advertising agency setting.
4.0 OVERVIEW OF THE DESIGN THINKING DEFINITION & PROCESSES
4.1 DESIGN THINKING DEFINITIONS
There are numerous ways of defining design thinking that are dependent on the source of research. The most popular research define design thinking as:
Any process that applies the methods of industrial designers to problems beyond how a product should look.

This definition assumes design thinking is the application of industrial design tools and approaches, to problems beyond product styling: "Not just products, but services, experiences, and presumably finance, education, and government, as well." (Patnaik, 2009)
This implies solving 'wicked' problems for social good.

This definition assumes that the main role of design thinking is to be applied to the big social and commercial problems that have no obvious, easy solutions: "… it gives us a new way of tackling problems … we can tackle bigger and more interesting questions, and just like Brunel, by focusing on systems we can have a bigger impact" (Brown, 2009).
Empathic 'human centred design'.

This definition assumes design thinking as a design ethos that focuses on the human experience of using products rather than the products themselves: "Human centredness is an approach to design, that really involves designing behaviours and personality into products … It's kind of like architects who show people into their houses as opposed to them being empty" (Kelley, 2002).
A process to balance an organisation's left brain bias with creative, right brain thinking.

Design thinking in this context means enhancing the ability of business people across analytically biased organisations to apply creative design tools; increasing a company's ability to 'out innovate' competitors.
4.1 PROCESSES
4.1.1 IDEO
The IDEO process is defined by Brown (2009), as a multi-disciplinary approach to human-centred design encompassing inspiration, ideation, and implementation to assist firms with innovation and growth.
IDEO brings ethical practices to design research. This guides an individual's interaction as they search for insight. Trust and collaboration are essential in design thinking. Hence, respect, responsibility, and honesty are a fundamental culture in design thinking (IDEO, 2015).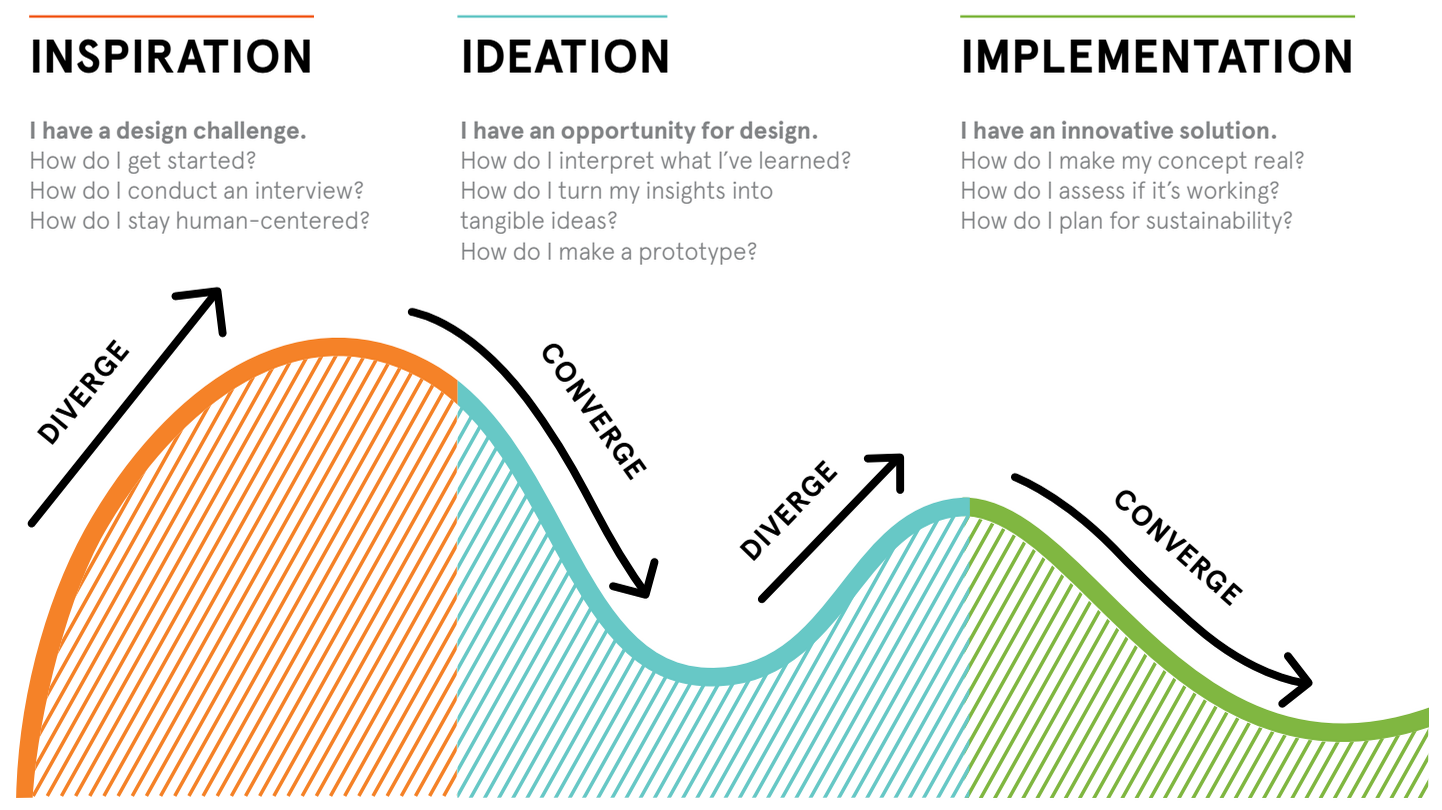 Figure 1 – Ideo's process. Source: https://cdn.evbuc.com/eventlogos/160332149/designthinkingphases.png
4.1.2 Standford D.School
Figure 2 – Stanford D.School's process. (no-date) Source: http://dschool.stanford.edu/wp-content/uploads/2012/02/steps-730×345.png
Stanford University's Institute of Design approach to design thinking is broken down into five steps: Empathise, Define, Ideate, Prototype, Test.
The first stage, Empathise, involves continuous interaction between project teams and users on whom the problem definition phase is based. The objective of the "empathise" stage is to gain a deeper understanding of the problem under consideration (Clatworthy, 2011, 21). This involves a mix of qualitative research techniques such as interviews, focus groups and experts interviews to find more information about the area of concern.     
During the Define stage, the information gained from the "empathise" stage is put together and analysed to define the core problem further. During this phase, the project team focuses on such vital issues as synthesising the data while extracting meaning, sharing stories, finding repeated themes and mapping user needs.
The Ideate phase involves efforts to generate ideas to solve the identified problem.  At this point, it is assumed that the question is fully framed using "how might we" statements and therefore a solution can be explored to satisfy the user's needs. The ideate phase uses tools such as brainstorming, mashups and co-creation to develop effective, innovative ideas (Stocks & Woods, 2011).  
Prototyping is the phase during which theoretical ideas turn into real experiences allowing visualisation as well as tests of new solutions. By prototyping, one can rapidly comprehend strengths and weakness. Using rapid prototyping techniques such as paper prototypes, it is possible to test concepts and validate ideas
Test is the final stage of the process – as it keeps the people you're designing for at the centre of your project and ensures that those same people will adopt the new design. In this stage it is necessary to gather feedback from the people you're designing for to guide the next iteration of your solution.
4.1.3 Double Diamond
Developed through in-house research at the Design Council (2007), the 'Double Diamond' illustrates how designers move through four critical stages: discover; define; develop and deliver
Figure 3 – Design Council's 'Double Diamond'. Source: Presentation by Alex Baxevanis, Webcredible, 29/09/16.
According to the Design Council (2007), all creative processes and a number of possible ideas are created ('divergent thinking') before refining and narrowing down the best idea ('convergent thinking'). This is represented by a diamond shape. However, the Double Diamond indicates that this happens twice – once to confirm the problem definition and once to create the solution. One of the most significant mistakes is to omit the left-hand diamond and end up solving the wrong problem. In order to discover which ideas are best, the creative process is iterative. This means that ideas are developed, tested and refined a number of times, with weak ideas dropped in the process.
5.0 REQUIRED MINDSETS
In the context of design thinking, the experimental mindset is the surest and most effective approach to the development of human-centred solutions. It refers to the process of performing a particular procedure to determine its effectiveness in solving the given problem (Kimbell, 2011, 287).
The mindset of experimentation enables designers to identify the strengths and the flaws of the various solutions so that the best solution can be selected.  Often, experimentation is done multiple times, necessitating the mindsets of empathy, optimism and acceptance of failures. The mentality of accepting failures is associated with willingness to learn from past approaches that did not work to improve future ones. This mindset requires the devotion of time and resources to post-mortems and after-action reviews (Kimbell, 2011, 289). The mentality of optimism gives designers the impetus to experiment with new solutions each time the previous one fails.     
5.0 ISSUES INHERENT IN DESIGN THINKING
Although design thinking is often touted as the cure to the stagnant organisations, there are many challenges inherent in this methodology.
One of these challenges relates to innovations barriers. These barriers result from restrictive mindsets, insufficient resources, lack of competencies and unsupportive organisational structures.
According to Kimbell (2011), innovation barriers lead to costly mistakes regarding skills, processes, and strategy. In most cases, innovation barriers prohibit the successful application of design thinking methods to solve a given problem and develop a long-lasting solution.     
The second major challenge inherent in design thinking is when the principles of this process clash with organisational culture. For example, in companies with a strong risk-aversion culture, being optimistic and learning from mistakes might not be possible. This may lead to sub-optimal results when applying design thinking to solve problems (Cross, 2007, 41).

The last major challenge is the misalignment of power dynamics within an organisation. Design thinking requires close collaboration between the various spheres of power in an organisation. If such an alignment is not achieved (for example due to power struggles), then the objective of design thinking cannot be achieved and no solution will be developed.   
Lack of evidence is another major concern. According to Johansson-Skoldberg, Woodilla and Cetinkaya (2013, 132) lack of evidence surrounding design thinking puts it at risk of being undervalued and deemed a label. There is a need for further research to relate design thinking to designerly thinking towards increasing its evidence base and establishing connections with other similar methodologies.
6.0 ETHICAL CHALLENGES
The most critical areas of ethical concern in design thinking are related to how research participants are recruited, what type of information is disclosed to third parties and how consent is obtained from the participants.
Another equally crucial ethical issue relates to the sensitivity of the way relationships between design teams and research participants are developed (Hesketh, 2016). All these ethical issues are of strategic importance in design thinking because they influence the effectiveness of the design process as well as the relevance of the solution obtained.   IDEO developed three principles of design research ethics that can be applied to mitigate risks (IDEO, 2015)
Respect – Honor participant limits and value their comfort.

Responsibility – Act to protect the current and future interests of interviewees.

Honesty – Be truthful and timely in communication.
7.0 HOW COULD DESIGN THINKING ADD VALUE TO ADVERTISING AGENCIES
The author works at Connector – an advertising agency. Connector started as a digital marketing agency but in its recent past has been going through a transformation trying to move away from short-term marketing campaigns to more integrated digital experiences and products.
In the last years, Connector has received three national and European awards for innovative campaigns and is exploring a new positioning around 'Experience Design Innovation'.
A goal is to move and evolve more towards a hybrid model of consultancy and production and get ongoing contracts beyond just the marketing department. Therefore Connector needs to engage on a deeper level than transactional campaigns and become involved in the client's most pressing business challenges to get opportunities to innovate beyond just marketing.
The early adoption and application of design thinking methods and principles can become a competitive edge for Connector creating benefits such as:
Using inspiration techniques to unlock creativity in new ways

Strengthening the relationships in the ideation phases co-creating with clients

Validating campaigns and ideas from the very start

Creating a USP of innovation in a market that is getting more commoditised
This unique mix of activities are not used by competitors and offers a long-term source of differentiation.
7.1 SITUATION ANALYSIS
Connector already uses some processes that are part of design thinking and due to extensive work in designing its own culture, most of the members have the mindset required for practising design thinking – explorative, optimistic, empathic and collaborative.
Connector's organisational set-up is defined by a flat structure and ever-changing delineation of responsibilities which creates psychological safety and allows for everyone in the team to have a voice and bringing multiple perspectives.
7.2  NEW DESIGN THINKING METHODS TO BE EXPLORED
Connector's next step is to evolve by exploring opportunities currently overlooked around design thinking tools.  The following are some of the most critical design thinking methods that are not applied but could be implemented by Connector presently.
7.2.1 INSPIRATION PHASE
7.2.1.1 Behavioral Personas
Connector can utilise the design thinking persona approach to help identify user desires and needs and satisfy them accordingly. In design thinking, a persona is defined as a representation that is intended to enhance decision making and communication by applying rules that fit into the real problem (Baregheh, Rowley and Sambrook, 2009, 1334). Personas in design thinking are evolved from the traditional marketing personas. While traditional personas are fictional representations of an ideal user with demographics, job, salary and habits, behavioural personas explore user behaviour and thinking patterns, underlying goals, reasons to make decisions and needs.
           Among other applications, the behavioural personas approach can be used by Connector to unlock insights that would not be opened via traditional personas.  This will aid the development of new products, serve as the rationale to justify strategic choices and also facilitate long-term communication between various stakeholders.
7.2.1.2  Stakeholder Mapping
Stakeholder mapping refers to the visual representation or description of the entities, groups, and individuals involved in the design, development, and marketing of a given product such as users, partner organisations and regulators. Stakeholder mapping reflects the convergence of people and business perspectives of design thinking (Cross, 2007, 44). The connections and interplays among the various stakeholders help put them on the management radar and hence facilitate regular assessment and updating the design process changes. This is a necessary consideration as it reflects the dynamic nature of Connector's client operations.
Connector can start to develop the maps to explore innovation and marketing possibilities beyond traditional marketing channels, to understand client challenges in bringing ideas or products to life and to uncover potential partnerships.
7.2.1.3   Customer Journey Mapping
Customer Journey Mapping  refers to the process of analysing touch-points from the last point of service delivery process as viewed from the perspective of the customer. Here, a touch-point refers to an instance of communication or any form of communication between a service provider and the customers (Fay, Borrill, Amir, Haward, West, 2006, 554). Utilisation of customer journey mapping can help Connector to identify chances for innovation or integration.
7.2.1. 4   Extremes and Mainstreams
According to IDEO (Brown, 2009, 39) when recruiting people to interview in a design thinking process, researchers should go after both the big broad mainstream and those on either extreme of the spectrum. An idea that suits an extreme user will work for the majority of others. Without understanding what people on the far reaches of your solution need, you'll never arrive at answers that can work for everyone.
Connector can apply this technique when brainstorming solutions for clients with a broad target audience by talking to people at the extreme end.  This can spark the team's creativity by exposing them to use cases, hacks and design opportunities that would not be presented in other ways.
7.2.4   Framing Challenges
Using IDEO's framework, Connector can start creating challenge statements that drive toward ultimate impact, allow for a variety of solutions and contextualise. Considerations or questions Connector might ask include:
What is the problem you're trying to solve? Try framing it as a design question.

State the ultimate impact you're trying to achieve.

Write down some of the context and constraints that you're facing.
Connector can apply this technique to simplify briefs when brainstorming solutions for clients. This will reduce the time taken to get everyone up to speed in order to participate in the brainstorms.
7.3.0 IDEATION PHASE
7.3.1  Co-Creation Session
According to IDEO, Co-creation Sessions are sessions that include the clients in the design process.  The purpose of a Co-creation Session is to convene a group of people from the company you're serving and then get them to create alongside you. This goes beyond just hearing their voices – it empowers them to join the design team.  
Connector can host co-creation sessions throughout the campaign development to develop better solutions that are validated at an early stage, avoid rework and strengthen relationships with key clients.  It is, therefore, easier to get buy-in from senior clients as they will feel part of the solution.
7.3.2  Rapid Prototyping
Rapid prototyping refers to the formation of experiential and visual representations of a design concept. Rapid prototyping can help Connector determine which solutions are technologically feasible given the constraints of resources, budget and time.
Connector can create rapid prototypes which can be tested in the market to gain feedback on improvement of the process and to develop and enrich ideas. This can allow Connector to present concepts to clients with valid real-world feedback from their customers. Rapid prototypes can also be applied to support communication in teams (Stickdorn and Schneider, 2010, 38), thereby creating a shared language and understanding of the project among the team. The advantage of rapid prototyping is that it is suitable for solving a wide range of problems in various settings.
7.4.0 IMPLEMENTATION
7.4.1 Define Success
Connector can use the success definition methodology to determine important milestones in the life of our projects and come to understand what success looks like. This helps moving beyond current KPIs like brand reach and impressions while the ultimate goal is to drive consumer impact.
By thinking about a variety of dimensions, we can define with our clients what success is regarding both their organisation and the people we are designing for.  Going beyond media lenses, Connector can create new metrics of success for our activities, explore our results through diverse lenses that can prove valuable and prompt our clients to think long-term about our relationship.
7.4.1 Keep Iterating
Iteration is one of the core principles of human-centred design and can help Connector increase their impact and deliver better results.   If time is allocated, Connector can continue to iterate after campaigns go live, soliciting feedback and building learning outcomes back into the creative solutions. By using both qualitative and quantitative approaches with no budget increase in digital platforms or campaigns, exponential growth can be achieved.
CHALLENGES IN THE IMPLEMENTATION
Connector already practices most of the design thinking methods, but to evolve, more members of the team need to participate in the activities. Connector needs to overcome the team time barrier that hinders ongoing utilisation of design thinking.  Suggested reinforcement activities:
Continue practice design thinking methods to create a habit in every project and every team member.

Have an onboarding design thinking training especially when new people join the team as it can feel like chaos when people are new to it (Brown, 2009).  

Allocate a design thinking weekly time slot where we can have all team members available so we can tap into the collective intelligence without interrupting people from their other tasks.  

Allocate time in the budgets for iteration and experimentation, allowing projects to evolve after going live.

Invite clients to co-create from the pitch moment and explain our approach to applying design thinking to projects. Allow time and budgets for workshops throughout the project.
CONCLUSION
Design thinking gives project teams opportunities to learn about new methods of solving problems innovatively to arrive at the best solutions. Due to its pragmatic approach, design thinking has emerged as an important methodology with wide applications across all types of businesses including creative advertising agencies.  Regardless of the nature or size of the business organisation, successful adoption of an innovative design thinking process constitutes a major strategic opportunity for organisations that seek to achieve a dominant position in any industry. Connector can apply more tools as part of its design thinking practice to enhance collaboration, expand creativity and create a unique market proposition in Ireland.  The potential for sustainable competitive advantage for Connector and clients alike is an attractive and achievable goal.
Word count: 3,194
BIBLIOGRAPHY
Baregheh, A., Rowley, J. and Sambrook, S. 2009. Towards a multidisciplinary definition of innovation. Manage. Decis, 47(8), pp. 1323–1339.
Beckman, S. L. and Barry, M. 2007. Innovation as a learning process: embedding design thinking. Calif. Manage. Rev., 50(1), pp. 25–56.
Brown, T. 2009. Change by Design: How Design Thinking Transforms Organizations and Inspires Innovation. New York: Harper Business.
Callaghan, E. 2009. Personalities of design thinking. Design Management Journal, 4(1), pp. 20-32.
Clatworthy, S. D. 2011. Service Innovation Through Touch-points: Development of an Innovation Toolkit for the First Stages of New Service Development. Int. J. Des., 5(2), pp. 15–28.
Cooper, R. and Junginger, S. 2009. The evolution of design management. Design Management Journal. 4(1), pp.4-6.
Cross, N. 2007. From a design science to a design discipline: understanding designerly ways of knowing and thinking. Design Research Now, pp. 41–57.
Curedale, R. 2013. Design Thinking: Process and Methods Manual. Topanga: Design Community College Incorporated.
Design Council. (2017). The Design Process: What is the Double Diamond?. [online] Available at: http://www.designcouncil.org.uk/news-opinion/design-process-what-double-diamond [Accessed 21 Nov. 2017].
Design Council. (2007) 11 lessons: managing design in 11 global brands: a study of the design process, Available at: http://www.designcouncil.org.uk/sites/default/files/asset/document/ElevenLessons_Design_Council%20 %282%29.pdf (Accessed: 21 November 2017)
Fay, D., Borrill, C., Amir, Z., Haward, R., West, M.A. 2006. Getting the most out of multidisciplinary teams: A multi-sample study of team innovation in health care. J. Occup. Organ. Psychol., 79, 553–567.
Hesketh, P. 2016. A tool for considering ethics in Human Centred Design. Retrieved from https://medium.com/common-good/a-tool-for-considering-ethics-in-human-centred-design-ac365de61880
Kelley, David. (2002). 'David Kelley on human-centered design'. In: TED.com, February. http://www.ted.com/talks/lang/eng/david_kelley_on_human_centered_design.html
Kimbell. L. 2011. Rethinking Design Thinking: Part I. Design and Culture, 3(3), pp 285–306.
Liedtka, J. and Ogilvie, T. 2011. Designing for Growth: A Design Thinking Toolkit for Managers. Boston: Columbia University Press.
Nessler, D. 2016. How to apply a design thinking, HCD, UX or any creative process from scratch. Retrieved from https://medium.com/digital-experience-design/how-to-apply-a-design-thinking-hcd-ux-or-any-creative-process-from-scratch-b8786efbf812
Patnaik, Dev. (2009). 'Forget Design Thinking and Try Hybrid Thinking'. In: Fast Company, August, 25. http://www.fastcompany.com/blog/dev-patnaik/innovation/forget-design-thinking-and-try-hybrid-thinking
Stocks, D., & Woods, B. (2011). Design empowered innovation – How "design thinking" can enrich marketing and business innovation.
Stickdorn, M. and Schneider, J. 2010. This is Service Design Thinking; Basics, Tools, Cases. New York: BIS Publishers, Amsterdam.